The Biggest Mobile Jackpot Win
In 2015, one Canuck was signed up to Royal Vegas Casino for just seven days. He went to one of the most popular progressive slot games, Mega Moolah, using his mobile phone. Placing his bet, he eagerly awaited the reels to stop spinning. When they did, he was shocked about what he saw. This Canuck had actually won and won big! His bankroll became C$7.5 million dollars bigger. It was a record breaking win at any mobile casino and currently still holds true. Royal Vegas is one of the only online casinos to payout lump sums so this Vancouver resident walked away with millions.
Two Big Wins in Four Months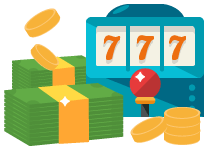 One man from Alberta, Canada was playing his favourite slot called Avalon at All Slots casino online. He watched the reels spin and landed a few small wins which kept him eager for more excitement. Suddenly on one single spin, he landed C$72,650. It was his second big win on slots in four months with the first win being C$13,900 on the Loose Cannon pirate themed video slot powered by Microgaming.
22 Canadians Score Big at Spin Palace
Spin Palace casino is well known for their regular payouts. Each month, Canadians are walking away with thousands of dollars. In just two weeks, 22 Canucks won a total of C$410,000.
Winning on Progressive Blackjack
Scott T., a Canadian resident was playing his favourite game Progressive Blackjack online. He never imagined actually winning the big jackpot with four aces in a row, he just loved the game. This fan of Blackjack had great things headed his way. He landed a hand with four aces and won a sum of C$155,345. Scott says "I really enjoy playing blackjack and I have to admit that this win has only increased my passion for the game and also my bank balance (of course). I have to keep pinching myself to check that the money really exists! I think it will only be real when I have my real flight ticket in my hand for my holiday of a lifetime!"
Beating It….
Kathryn was playing at a land based casino in Niagara Falls. It was her second time to the casino and was not very familiar with gambling. While walking around, she saw her favourite musician, Michael Jackson, had his very own themed slot. She couldn't resist. As a huge fan of the Prince of Pop, Kathryn put $60 into the machine and just as soon as the spin was complete, the lights were going crazy. People rushed over to the machine to find out the 55 year old Canadian had won C$1.8 million dollars. She says "…I chose this machine because I love Michael Jackson's music and I was lucky to win a few hundred dollars the first time I played. This time I put in only $60." What a story!
A Real Catch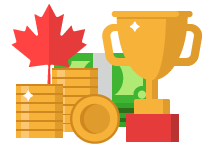 Although not in Canada, this is such a great casino story that we had to share it with you. One fisherman from the UK was playing the renowned slot game Hall of Gods. Known for its big wins, he made a small wager of jus 20p and won 6.4 million Euros. When asked if he would quit his job, he says fishing was his passion and he would continue doing it. He planned on giving part of it to charity.